Bryan has several different show packages to offer his clients. Below are some brief descriptions of the different shows Bryan can perform for you and your guests. Don't see what you're looking for? Don't worry! Bryan can also help customize his shows to your event's needs! Please visit the CONTACT page to call or email him as he will be more than happy to answer any questions you may have.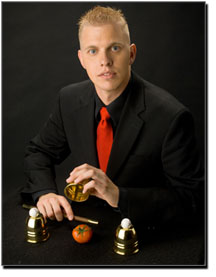 If you're looking for a unique form of entertainment for your next corporate event or private party that takes place just inches away from you or your guests. Bryan Gilles can deliver his incredible blend of close-up magic that will astonish even the toughest of skeptics. This form of magic is perfect for restaurants, bars, wedding receptions, and small settings. It's close up and in your face! Bryan will walk around and entertain your guests as they wait for their meals, or for small groups mingling about your party. Bryan has shared his close-up magic with several Hollywood stars including; comedian- Hal Sparks, Clint Eastwood, and Patty Duke!
Close-Up Magic can create a great atmosphere for your party or special event. Your guests will enjoy this form of personal entertainment! Bryan uses comedy and a lot of audience interaction to make the event and magic unforgettable!
Contact us today for more information!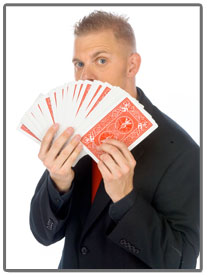 Are you interested in a unique way to bring more people into your establishment?
If so, keep reading!
Your restaurant may be so successful that your customers have longs waits before they are seated.
Once seated, they may once again have a long wait for their meals.
The bad news is that your losing customers because some people see that long line and turn around and go somewhere else!
On the other hand you may not have the amount of traffic in your restaurant that you desire.
Maybe your lunch hour is busy and your dinner is slow.
Magic is HOT right now with it's current trend! Magic is now main stream, and everyone is talking about it! So why not capitalize on this?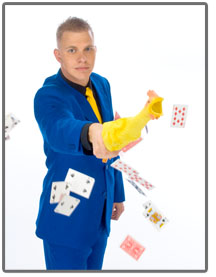 The Comedy Magic of Bryan Gilles" is the most popular of Bryan's show packages.
Whether he is displaying the humorous side of a classic magic trick, exhibiting the mind-reading skills of his trained rubber chicken- Elvis, or even executing a lighting-fast escape popularized by the late Harry Houdini, Bryan guarantees you a show you will never forget!
This finely tuned 45 - 60 min show will work in almost any situation and performing venue!
Bryan Gilles has been trained since the age of five in many forms of magic. From close up sleight of hand, to large stage and theater shows, Bryan is an absolute hit every time! From livingroom gatherings to large corporations, people have put their trust in Bryan that he will deliver a show that will be remembered for years!
Bryan Gilles provides a show that audiences of all ages will talk about long after the show is over! He combines fast-paced magic, and clean comedy to create a unique show that will leave your audience laughing, amazed, and most importantly, entertained. "The Comedy Magic of Bryan Gilles" is also filled with a healthy dose of audience participation so your guests can literally be a part of the magic!
Contact us today for more information!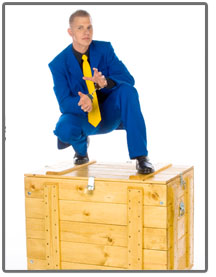 Do you want a refreshingly new form of clean comedy and magic entertainment at your fair this year?
Do you want your fair-goers talking about it for months afterwards?
If so, Bryan Gilles is the man for the job! His show has been described as the perfect blend of comedy, magic, and escapes for all ages to enjoy! Bryan Gilles can customize a show for your fair using his talents and extensive experience.
If you are looking for a unique and refreshingly new form of magic for your fair this year, please contact us as soon as possible due to the limited number of dates available for the upcoming fair season. Bryan Gilles would love to perform and be a part of your fair this year! Please contact us for open dates and availability.